Recently, we've been working with our friends over at Customer Thermometer to integrate their excellent customer satisfaction survey tool with Sirportly.
If you're not familiar with Customer Thermometer they allow you send 1-click satisfaction surveys to your customers to help you guage how you're doing. Integrating Customer Thermometer with Sirportly means that you can automatically have these surveys integrated with your outgoing messages.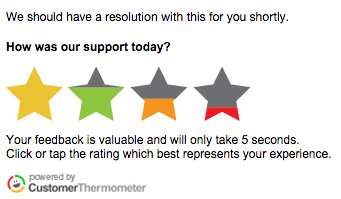 If you're interested in getting started with Sirportly and Customer Thermometer they've produced a brilliant instructional video to guide you through the setup process. Have a look on their integration instructions page.