For the last months, I have been busy working on re-designing the logos for a number of our brands & companies. I wanted to explain a little of my reasoning for committing us to a company-wide identity change.
Over the years, our logo design has been a little sporadic and we've had more logos for most of our products and our company than I care to remember.
The logos below are those from many years of aTech Media (going all the way to 2005). As you can see, way too many different logos for a company which is only 10 years old!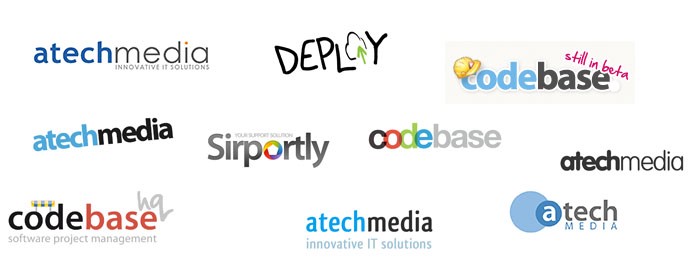 Many of these old logos were based on varying ideas of trying to unifiy all brands under a single identity and then seperate them into their own entities. This inconsistency was a failure and I believe it has probably cost us quite a bit in brand recognition over the years.
Going forward, it's my plan to never change logos again. I want everyone who sees them to instantly recognise it from a previous re-production. This seems basic advice but our old logos were far from memorable and changed too often to cash in on this recognition.
So, without further ado, I'd like to present the new logos which I've been working on over the last few weeks. Most of these are now live and some will be launched in the near future.

While designing these, I formulated some rules to follow which I plan to do on all future logo design projects.
Do not try and derive a logo from an existing logo in your portfolio. Each logo can be treated as individual unless part of a suite of products with a similar name.

Keep it simple. Do not overcomplicate the logo. Use a maximum of 2/3 colours.

Design all logos in black & white before adding any colour.

Design all logos in vector formats and ensure they can scale up and down to any side (from 16px to 3000mm+).

Ensure the logo works on both light & dark backgrounds.

Design lots of versions and keep your iterations. Get advice from friends & colleagues. The image below are some of the rejected logos from our recent re-design process.